With over 250,000 hip replacement surgeries performed in the United States each year,1 you are certainly in good company. The high success rate associated with total hip replacement has helped millions of people return to their more active lifestyles.
In order to help alleviate your pain and get you back to living your life, your doctor wants to ensure that the implant he or she selects for you closely matches your anatomy and allows for performance over time. Stryker's Mobile Bearing Hip™ with X3® Advanced Bearing Technology is a mobile bearing, rather than a fixed bearing hip replacement. Mobile bearing Hip™ replacement components are designed to fit together in a unique way to allow for a more natural range of motion,2 more resistance to wear3 and greater joint stability.4
An innovation in hip replacement design, the Mobile Bearing Hip™ Replacement only from Stryker features a unique polyethylene insert made with X3® Advanced Bearing Technology. Either a metal or ceramic head is locked into the insert and the insert moves within the anatomic metal shell. The Mobile Bearing Hip's™ design allows your doctor to more closely match the implant to your anatomy and provides you with several potential advantages.
Greater Range of Motion
The Mobile Bearing Hip™ Replacement is built for more natural movement. Its anatomic cup is designed to offer stability while allowing greater freedom of movement. Test results demonstrated approximately 145° range of motion in a front-to-back sweep of the leg — a full 5% gain in range of motion when compared with fixed-bearing implants of equivalent size.2 Stryker's Mobile Bearing Hip™ is designed to better accommodate your natural walking (gait) cycle of movement in range of motion. Greater range of motion may allow you to maintain your active lifestyle with fewer compromises.
Stryker Corporation or its divisions or other corporate affiliated entities own, use or have applied for the following trademarks or service marks: Mobile Bearing Hip, Stryker and X3. All other trademarks are trademarks of their respective owners or holders.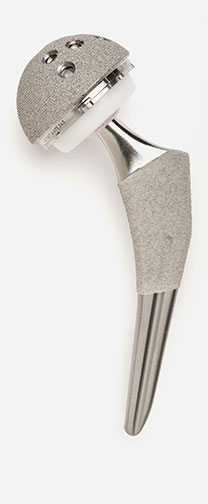 References:
1. AAOS website. Accessed March 2010.
2. Stryker Test Report: RD-06-078.
3. Stryker® Orthopaedics Trident® Acetabular Inserts made of X3® UHMWPE (unsterilized), 721-00-32E, show a 97% reduction in volumetric wear rate versus the same insert fabricated from N2\Vac™ gamma sterilized UHMWPE, 620-00-32E. The insert tested was 7.5mm thick with an inner diameter of 32mm. Testing was conducted under multi-axial hip joint simulation for 5 million cycles using a 32mm CoCr articulating counterface and calf serum lubricant. X3® UHMWPE Trident® Acetabular Inserts showed a net weight gain due to fluid absorption phenomena but yielded a positive slope and wear rate in linear regression analysis. Volumetric wear rates were 46.39 ± 11.42mm3/106 cycles for N2\Vac™ gamma sterilized UHMWPE inserts and 1.35 ± 0.68mm3/106 cycles for X3® UHMWPE (unsterilized) Trident® Acetabular Inserts. Although in-vitro hip wear simulation methods have not been shown to quantitatively predict clinical wear performance, the current model has been able to reproduce correct wear resistance rankings for some materials with documented clinical results.a, b, c
a.Wang, A., et al., Tribology International, Vol. 31, No. 1-3:17-33, 1998.
b. Essner, A., et al., 44th Annual Meeting, ORS, New Orleans,Mar. 16-19, 1998:774.
c. Essner, A., et al., 47th Annual Meeting, ORS, San Francisco, Feb. 25-28, 2001:1007.
4. Stryker Test Report: RD-09-068.
Next Page >>